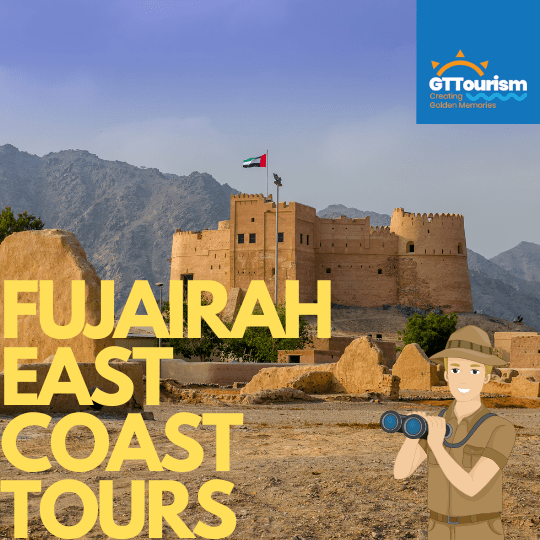 Fujairah East Coast Tour
There are plenty of tourist attractions in Fujairah which are worth paying a visit. The place has got plenty of archaeological sites which are quite popular among the travelers and the local visitors as well. The travelers coming here must take part in the different Fujairah Tours, since these will help them to explore the town in a much better way. There are plenty of things to do in Fujairah and so the travelers can always keep themselves busy during their visit to this fantastic place
The travelers coming here must try out the different Fujairah tours during their stay in this place. There are plenty of sightseeing options in Fujairah which must be visited by the Adventure in Dubai. The historical sites of the place will definitely excite all the visitors apart from the history lovers. The adventure lovers can try out snorkeling and scuba diving in Fujairah. There are many adventure activity sites in the town. The mountainous areas of the place are just the right spots to go for hiking and trekking. There are some lovely scenic spots in these regions which are simply stunning and captivating. The visitors must visit the Fujairah fort and Fujairah Museum, while touring in this place.
The restaurants serve a wide range of delectable cuisines that include local and international cuisines as well. The shopaholics will definitely have a wonderful time in this place since there are some very good shopping areas and bazaars in Fujairah. Variety of articles and merchandise are available in this part of the world. Plenty of gift and souvenir shops are also there.
Please note minimum 2 person require for the booking.
Pick up from your Hotel - Location - Residence in Dubai / Sharjah

Bitna Fort (16th century bulit by Portuguese)

Hajar Mountains

Friday Market

Mountain of Dibba

The fishing village of Fujairah

Vegetable & Fruit Market

Carpet Market

Fujairah Beach / Fujairah museum

Fort of Fujairah

Buffet Lunch

Unlimited Soft Drink.

Drop Off to your Hotel / Location / Residence in Dubai